PixelCity Screensaver •
Mplayerx4sofa
———————————————————
———————————————————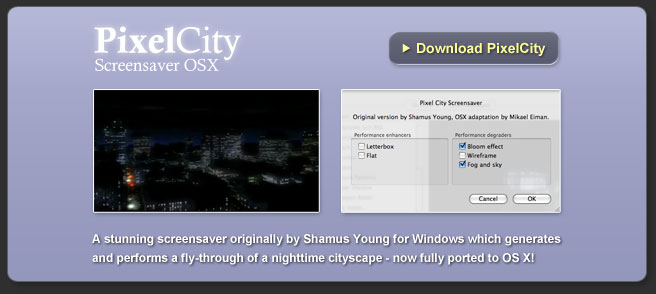 1.1
Fixes by Dave Warker to make it work on 10.6 (Snow Leopard), thanks!
1.0
Public release. Recent bugfixes from google code integrated. Some shell code added, ported to Cocoa. Options menu added to OS X screensaver window to enable/disable bloom effect, wireframe mode, fog and sky, letterbox and flat. Dual monitor support. Tested on Leopard 10.5.x.
About PixelCity OSX:
When I stumbled upon Shamus pixelcity project on google code I just had to port it. :) Turned out it wasn't all that difficult, so here you have it! Source is included in the distribution.
• There are no art assets. All content is generated at runtime.
• Written in C++ using OpenGL. No fragment or vertex shaders are used.
The original project and code by Shamus Young can be found here.
Demonstration video from the Windows version:


Demonstration video from this OS X version:

This sweet little gem brought to you by eMage.
website • email